3D View of Verizon Branded Samsung i760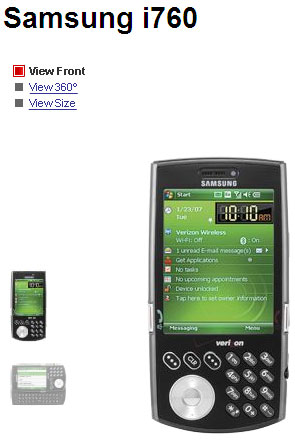 Yesterday had some biggish news for the Samsung SCH-i760 on both Howardforums and PDAphonehome.  A user on Howard Forum found a 3D flash file of the Samsung i760 on Verizon's site much like those you can view for other Verizon phones.  You can check out the picture, or view the 3D view of the Samsung i760 yourself.
Another user found an entry for the i760 on Samsung's site with a link to the default Samsung software, all pointing towards a release in the near future. Samsung i760 software.
If you look at the image to the right you will see a Get Applications section.  This is likely the reason for the delay, as Verizon has added Get it Now and VCast services to the 760.  This could be a great addition or a boon depending on the implementation and whether users can remove the option if they so desire.
Many of the other posters are confirming that we should have some solid news or a release by July 20th, though this is still a rumor right now.
Stay tuned for the latest consolidation of updates from theInternet specifically HowardForums and PDAPhoneHome,