Why I started using Evernote (Again)

Always ready for the next great software application to revolutionize and streamline my life I signed up for Evernote a little more than a year ago as soon as the beta invite landed in my inbox. I wasted no time installing it on my HP tablet alongside OneNote and rushing to lunch with a friend just so I could scan his business card. It was…the coolest software I had seen in quite a while…but it didn't last. In fact the last thing I put in my notebook until 2 weeks ago was that business card.
Evernote fell to the side primarily because I couldn't find a good way to work it into my workflow but now that I've been writing for WalletPop.com and trying to line up some other writing projects I really felt the need to get back on the elephant (get it? their logo is an elephant! Elephants never forget…Ok Ok.).
Here's how I had been doing things for the past year. I kept a variety of notes and digital stickies if you will in the following locations; sometimes related sometime not.
Gmail
Starred items in Google Reader
notepad files saved to Dropbox
notes in Moleskin
notes tucked into a Moleskin
drafts in Blogsmith
del.ico.us links
snapshots on my smartphone
several other random places where I'm sure my million dollar idea rests unaccounted for
The fact that I use 3 computers, and a smartphone on a daily basis coupled with trying to write a solid post for WalletPop.com and stay on top of a new directive at my day job aptly named "Big ideas" made this system difficult to use and worse inefficient even if I managed it well. If there's one thing I learned from Tim Ferriss, doing something well doesn't make it important, so I set out to find a better way.
Now that I've dusted off my Evernote notebooks and installed some version of it on my computers and my smartphone I've condensed the above system into this.
That's it; have an idea, enter it in Evernote. Find a cool story for WalletPop; enter it in Evernote until I can write about it. Have a millionaire infomercial idea while reading an issue of Esquire; enter it in Evernote with a picture of the page. Come up with 5 questions I want to ask Obama; well you get the idea!
I know there are several other ways that I could accomplish the same one place to rule all my ideas result I get from Evernote but the many ways I can start or add to an idea are what really seal the deal. You see, most of my ideas come to me away from the keyboard, whether that's on a walk, driving with the windows down, having dinner, taking a shower etc. Trying to capture these ideas on a Windows Mobile phone without Evernote is a pain due to the poor note's app and the fact that syncing notes inside OneNote to 3 computers without a magician is best described as futile.
With Evernote installed on my phone and computers I can enter new information by:
Evernote Desktop
Evernote Mobile
A Firefox extension
Twittering
Emailing
Uploading a picture
Uploading a pdf
Putting an idea into Evernote using any of these ideas, from any computer, from any location assures me that I won't lose track of a story or idea. When I need to find an interesting link or notes for a post I just have to go into Evernote and it's right there; searchable by tags and in text so it's easy to find.
Here's a look at the latest version of Evernote: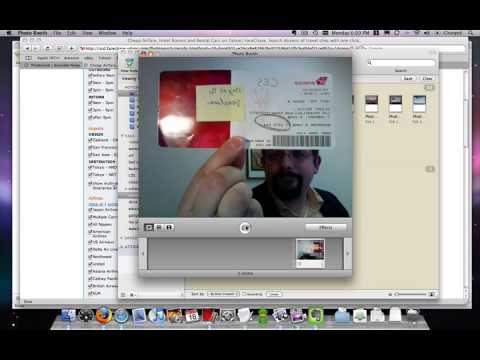 The base version of Evernote is available for free and for now meets all of my needs; there is also a $5 a month premium version which unlocks better security, more file upload options and other bonuses.
You can use Evernote at your desk or on the go on the following systems:
Mac OS X Leopard
Windows
iPhone / iPod Touch
BlackBerry
Palm Pre
Windows Mobile
Web Clippers
SanDisk U3
For more info on Evernote check out the Evernote Blog as well as Ron's Evernote Tips blog which is full of tips to get the most out of your Evernote notebook. It will be interesting to see how Evernote evolves over the next year to meet the competition that will come from OneNote which will be included in all versions of Office 2010 and include some form of online syncing.
Have any questions about Evernote or how I use it to stay on top of my life? Ask away!