For the past 6 months I've had a major issue with sending email through my gmail account using the Samsung i760 running WM6.1.
While Microsoft hasn't issued a fix the xda developers have come up with a registry edit and installable cab file to fix the smtp sending failure issue in Windows Mobile.
The issue seems comes up after your smtp server fails once. After that you won't be able to send email until you delete and recreate the account.
With this new fix the problem should be solved. After I installed it I had to delete the old account that was failing but it appears to be working now.
If you're looking for how to set up an IMAP connection on Windows Mobile check out my guide.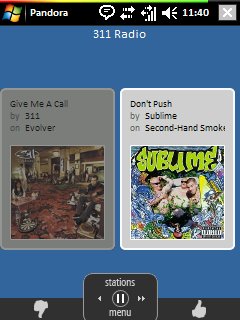 Pandora, one of the coolest iPhone apps and awesome online music streaming service, finally released a Windows Mobile client! The official version only supports the HTC touch and Motorola Q9c but a user on PPCGeeks has cooked up a version of Pandora which runs on any Windows Mobile phone.
The "hacked" version works great on my Samsung i760 as well as many other phones although it has issues displaying correctly on VGA screens.
Other phones which work;
Touch(6900)
Mogul
Apache 6700
700wx(WM5)
800w
Diamond
Touch Pro
Omnia
Samsung I760
AT&T Tilt
Hit up PPCgeeks for the quirks that some phones have.
I'm currently listening to one of my favorite pandora playlists and can't wait to spike my data usage with this! The sound quality isn't as good as on the desktop, or the iPhone if I recall, but it works fine for on the go Music Genome Project listening!
Here's to the efforts of Pandora and the hope that they roll out a higher quality stream. I'd plunk down some cash for that!
After playing around with Tobias Buckell's iPhone, rocking the 2.0 firmware update, over lunch I decided I needed to find some cool new applications for my Samsung i760 which I had just upgraded to Windows Mobile 6.1. I found 4 cool programs which help me feel like I can at least wait for the third generation iPhone.
There you have it, my favorite new WM apps which will at least provide some help to avoid the iPhone jealousy!
Despite missing the end of June deadline leaked on a PowerPoint last month Samsung has made good on its rumored update to the Samsung SCH-i760 on Verizon's network. The Windows Mobile 6.1 update files are currently available on Samsung's site for users on Xp or Vista who wish to upgrade.
UPDATE – Mirrored files on Rapidshare if Samsung links go down.
The files were found by Zachman123 on pdaphonehome.com where many users are reporting success in upgrading. Unfortunately some users have had issues leaving 2 bricked phones by my count and a several users reporting the need to run the update twice.
WM 6.1 doesn't fix all of the bluetooth issues that have plagued the device but does bring threaded SMS and other items noted below as summarized by djlactose @ pdaphonehome.com.
Bluetooth Pairing is automatic doesn't ask for a passcode (unless you have a custom on set)
Customer Feedback to send usage data back to microsoft
Getting Started directions added instead of help
Remote Desktop Mobile included by default
Task Manager changes to show CPU usage and it appears to show all running processes not just programs
OneNOte Mobile added to the Office Mobile Programs
Automatic detection of Exchange Server Settings
Overall Performance seems to have improved a bit, a lot less waiting for programs to open (this may just be due to the reset of my device, but I have done the reset before and I could sware it took me longer in the past to reload everything)
Text message threading with Spell Checker
Managed programs added
Bluetooth issue when in call corrected
Domin enrollment
Vpn connections now work without wifi
Wifi search for networks will now list all networks within range
Defalt signicure of Sent from my Windows Mobile® phone.
You can switch to view processes in task manger
I installed the update and even though it took 2 computers and a few tries to get the update to run I was able to get it up and running. So far I am enjoying the update even though the changes
If you can believe a leaked set of PowerPoint slides from Verizon, they are set to update the operating system on the Samsung SCH-i760 to WM 6.1. I currently own the phone and I am happy with the overall package but I am getting close to the need for a hard reset as well as something shiny to play with. The Windows Mobile 6.1 upgrade will bring about both of those for me.
If you want to know what new features WM 6.1 brings to the table check out this handy comparison chart of Windows Mobile features from Microsoft. Unfortunately Verizon may decide to rip out any really cool features but that is the price you pay for going with the big red checkmark of the cell phone industry!
In the continuing Bender Ball coverage here I wanted to share this video with you as a warning regarding ordering the Bender Ball.
From the video description:
Very cheap simple Abdominal Exercise ball early AM TV infomercial. Call to buy is fully automated. The quantity question is ambiguous/confusing & you end up with two units. They dont repeat the # or price so you dont know you have been had until you receive it. They get $8 S&H each & won't refund that plus you have to pay postage again to send one back, IF, you can get an RMA. DONT GET SCREWED! If you used a check card, cancel it since they are billing some monthly for stuff not ordered.
This consumer ended up ordering two balls as well as getting signed up for the continuity dvd program. Don't order the Bender Ball. As some commenters have said a kids kickball is a good replacement, though users are still on the lookout for a dvd replacement. Anyone out there want to put together a Youtube series for the Bender Ball workout?
In case you need further and possibly funnier proof that the Bender Ball a infomercial product sold by Savvier LTD is a ripoff check out this funny video warning.
Previous Bender Ball Coverage:
Ordered a Bender Ball? You Joined a DVD Club.
In case you missed it Google's Gmail rolled out IMAP yesterday to the rejoicing of Geeks worldwide. I even wrote a picture guide for setting up Gmail on your Windows Mobile 6 device. I finally had the service added to my main account this evening and quickly went about downloading the last 3 days worth of mail.
Much to my dismay many of my messages were coming up blank! After checking that the messages were in fact not blank I hit up Pdaphonehome to see if others were having the same problem. Indeed the problem of blank messages when checking Gmail via IMAP is widespread.
I was so excited to finally have this basic and overdue functionality on my Gmail account. After all of the resources Google has poured into the cell phone market and the favor shown to the iPhone with this IMAP announcement, I am saddened by the lack of support for Windows Mobile. It didn't bother me so much once I saw the IMAP announcement because IMAP has standards and I thought that this meant something. You can't tell me that Nobody at Google has a Windows Mobile 6 phone.
Even if the issue sits in the Windows Mobile 6 messaging client wanting some "optional" part of the encoding I have to place the blame on not adding this bit to the IMAP service, since the devices have been out there and in use.
I am going to be looking for a way to use IMAP on WM6 devices to check Gmail and I will report back if a solution is found.
In conclusion I understand that Gmail is free, without obligation to me, I can get IMAP from other places, but I am selfish and I want this to work.
Does anyone have an email or support request page?  The best I can find is Google groups and Suggest a feature. I guess I could Suggest that Google not deliver me blank emails but I am thinking this email would be better sent elsewhere.