Tonite I found a Targus bag that works great to hold my HP Mini 1000 netbook. The bag is a Targus DVD213US designed for portable DVD players.
I found the messenger style bag at TJ Maxx on the clearance rack for just over $5 thanks to the TJ Maxx customer appreciation day.
There is plenty of room in the netbook, power adapter, mouse, camera and even a book if I need to.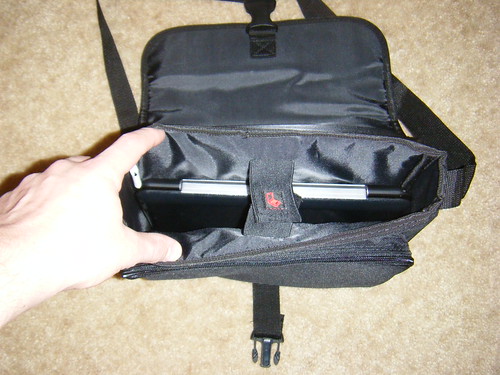 You can check out more pictures on Flickr.
If you've been wondering what the 6 cell battery for the HP Mini 1000 will look like when it launches later this month wait no longer. Warner Crocker of GottaBeMobile.com was interviewing Xavier Lanier of Notebooks.com to see what all he carries around in his Scott eVest. About halfway through the video(embedded below) Xavier pulls out the 6 cell battery for the HP Mini 1000, followed by 5 or 6 3 cell batteries for a total of 20-22 hours of battery life.
Given the placement of the battery on the Mini 1000 I think this is almost the only way that a 6 cell would have worked but I wish they had an offering similar to their 2710 tablet PC extended battery which is flat and extends the length of the computer.
No word on pricing or an exact street date yet.
You can get a less blurry view if you skip to about halfway through the video or watch the whole way to see how much stuff Xavier keeps in his coat!

Finally, one last pic at a slightly different angle.