One of the most famous XKCD comics is the Sandwich comic. If you haven't read it, go here and laugh. If you read it and it doesn't make sense go here and see why sudo make me a sandwich is funny. If you still don't get it just laugh nervously.
If you are a Windows 7 user you can check out my Windows 7 remix of XKCD's Sudo Make me a Sandwhich posted below which illustrates how to achieve the same superpower in Windows 7.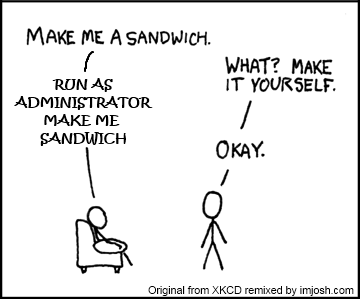 Remixed under creative commons.
I just took the trash out and I couldn't get, the above Calvin and Hobbes strips out of my head. It is seriously cold enough for Calvin to get frozen boogers out there people!
Full Strip originally run February 5th 1988.
I spent the next 20 minutes searching for an image online without any luck and finally found a site that let me search the text from any Calvin and Hobbes strip which told me what book it was in; including the page. So I pulled out The Complete Calvin and Hobbes


and captured it here for you.
One of my favorite webcomics xkcd had a good one today about the hazards of tailgating a geek!
I have been looking forward to Jumper which comes to theatres on Valentines day 2008. Jumper is about an individual who finds out he has a special genetic trait allowing him to teleport.  He is then forced to deal with a battle between the Jumpers and a "company" who is out to kill all of them.
Jumper is based off of a novel and the movie has a comic book coming out too!  The comic book has a free preview right now from ONI.
Free 23 page preview of Jumper the comic book.
via Boing Boing
Sometimes I read webcomics and think, "Dead On".  If you are in IT I think you can relate.
Userfriendly.org Optimism Comic
Enjoy.
Today's Joy of Tech documents the tumultuous relationship Apple has with its constituency.
You should add Joy of Tech to your feed reader today!
In case you haven't caught the latest Internet running joke, Miss Teen South Carolina's answer regarding the mapping abilities of US Americans, you should watch it.  Go ahead I'll wait.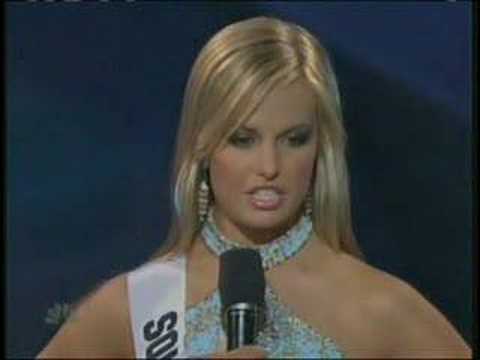 Today's Joy of Tech, had a great take on the subject, in fact a genius take on it.
Head over to Joy of Tech for the punchline…BaaaZING
The Joy of Tech comic… laughter is the best tech support.
As someone who has used Frontpage in the past, and has had to work with others using it in the recent past this comic had me rolling on the floor. Click the image for the full comic and punchline.