Pandora finally comes to Windows Mobile!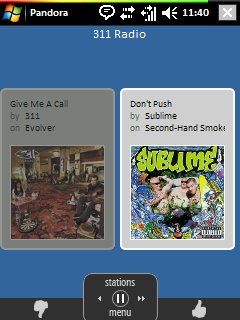 Pandora, one of the coolest iPhone apps and awesome online music streaming service, finally released a Windows Mobile client! The official version only supports the HTC touch and Motorola Q9c but a user on PPCGeeks has cooked up a version of Pandora which runs on any Windows Mobile phone.
The "hacked" version works great on my Samsung i760 as well as many other phones although it has issues displaying correctly on VGA screens.
Other phones which work;
Touch(6900)
Mogul
Apache 6700
700wx(WM5)
800w
Diamond
Touch Pro
Omnia
Samsung I760
AT&T Tilt
Hit up PPCgeeks for the quirks that some phones have.
I'm currently listening to one of my favorite pandora playlists and can't wait to spike my data usage with this! The sound quality isn't as good as on the desktop, or the iPhone if I recall, but it works fine for on the go Music Genome Project listening!
Here's to the efforts of Pandora and the hope that they roll out a higher quality stream. I'd plunk down some cash for that!