Always ready for the next great software application to revolutionize and streamline my life I signed up for Evernote a little more than a year ago as soon as the beta invite landed in my inbox. I wasted no time installing it on my HP tablet alongside OneNote and rushing to lunch with a friend just so I could scan his business card. It was…the coolest software I had seen in quite a while…but it didn't last. In fact the last thing I put in my notebook until 2 weeks ago was that business card.
Evernote fell to the side primarily because I couldn't find a good way to work it into my workflow but now that I've been writing for WalletPop.com and trying to line up some other writing projects I really felt the need to get back on the elephant (get it? their logo is an elephant! Elephants never forget…Ok Ok.).
Here's how I had been doing things for the past year. I kept a variety of notes and digital stickies if you will in the following locations; sometimes related sometime not.
Gmail
Starred items in Google Reader
notepad files saved to Dropbox
notes in Moleskin
notes tucked into a Moleskin
drafts in Blogsmith
del.ico.us links
snapshots on my smartphone
several other random places where I'm sure my million dollar idea rests unaccounted for
The fact that I use 3 computers, and a smartphone on a daily basis coupled with trying to write a solid post for WalletPop.com and stay on top of a new directive at my day job aptly named "Big ideas" made this system difficult to use and worse inefficient even if I managed it well. If there's one thing I learned from Tim Ferriss, doing something well doesn't make it important, so I set out to find a better way. Read more

For the past 6 months I've had a major issue with sending email through my gmail account using the Samsung i760 running WM6.1.
While Microsoft hasn't issued a fix the xda developers have come up with a registry edit and installable cab file to fix the smtp sending failure issue in Windows Mobile.
The issue seems comes up after your smtp server fails once. After that you won't be able to send email until you delete and recreate the account.
With this new fix the problem should be solved. After I installed it I had to delete the old account that was failing but it appears to be working now.
If you're looking for how to set up an IMAP connection on Windows Mobile check out my guide.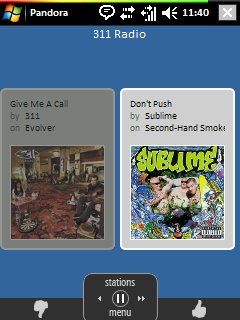 Pandora, one of the coolest iPhone apps and awesome online music streaming service, finally released a Windows Mobile client! The official version only supports the HTC touch and Motorola Q9c but a user on PPCGeeks has cooked up a version of Pandora which runs on any Windows Mobile phone.
The "hacked" version works great on my Samsung i760 as well as many other phones although it has issues displaying correctly on VGA screens.
Other phones which work;
Touch(6900)
Mogul
Apache 6700
700wx(WM5)
800w
Diamond
Touch Pro
Omnia
Samsung I760
AT&T Tilt
Hit up PPCgeeks for the quirks that some phones have.
I'm currently listening to one of my favorite pandora playlists and can't wait to spike my data usage with this! The sound quality isn't as good as on the desktop, or the iPhone if I recall, but it works fine for on the go Music Genome Project listening!
Here's to the efforts of Pandora and the hope that they roll out a higher quality stream. I'd plunk down some cash for that!
After playing around with Tobias Buckell's iPhone, rocking the 2.0 firmware update, over lunch I decided I needed to find some cool new applications for my Samsung i760 which I had just upgraded to Windows Mobile 6.1. I found 4 cool programs which help me feel like I can at least wait for the third generation iPhone.
There you have it, my favorite new WM apps which will at least provide some help to avoid the iPhone jealousy!
Despite missing the end of June deadline leaked on a PowerPoint last month Samsung has made good on its rumored update to the Samsung SCH-i760 on Verizon's network. The Windows Mobile 6.1 update files are currently available on Samsung's site for users on Xp or Vista who wish to upgrade.
UPDATE - Mirrored files on Rapidshare if Samsung links go down.
The files were found by Zachman123 on pdaphonehome.com where many users are reporting success in upgrading. Unfortunately some users have had issues leaving 2 bricked phones by my count and a several users reporting the need to run the update twice.
WM 6.1 doesn't fix all of the bluetooth issues that have plagued the device but does bring threaded SMS and other items noted below as summarized by djlactose @ pdaphonehome.com.
Bluetooth Pairing is automatic doesn't ask for a passcode (unless you have a custom on set)
Customer Feedback to send usage data back to microsoft
Getting Started directions added instead of help
Remote Desktop Mobile included by default
Task Manager changes to show CPU usage and it appears to show all running processes not just programs
OneNOte Mobile added to the Office Mobile Programs
Automatic detection of Exchange Server Settings
Overall Performance seems to have improved a bit, a lot less waiting for programs to open (this may just be due to the reset of my device, but I have done the reset before and I could sware it took me longer in the past to reload everything)
Text message threading with Spell Checker
Managed programs added
Bluetooth issue when in call corrected
Domin enrollment
Vpn connections now work without wifi
Wifi search for networks will now list all networks within range
Defalt signicure of Sent from my Windows Mobile® phone.
You can switch to view processes in task manger
I installed the update and even though it took 2 computers and a few tries to get the update to run I was able to get it up and running. So far I am enjoying the update even though the changes

Firefox Mobile Concept Video from Aza Raskin on Vimeo.
The Crave blog is reporting that Fennec the mobile version of Firefox is set to be debuted in September with a beta release in late 2008! I am extremely excited by this news since the desktop version of Firefox continues to be the best browser for my needs.
The Surprising news is that due to the licensing and restrictions on both the iPhone and Google's Android phone, you won't likely be seeing Firefox running on either! This leaves all of the love to Windows Mobile and Symbian devices which is fine by me!
The only problem I see ahead for the mobile version of Firefox is that it is coming into the game late. Opera should have it's latest release of Opera Mobile browser out by then and the newcomer Skyfire whose latest update makes for a very robust browser will be even farther along. I'm not saying I won't be downloading the beta on day 1, I just that I hope Mozilla brings its "A game". While I was waiting around for Trillian to release Astra, I found Disgby, and unless Astra can somehow print money or bend the space time continuum its release won't be a big deal.
If you can believe a leaked set of PowerPoint slides from Verizon, they are set to update the operating system on the Samsung SCH-i760 to WM 6.1. I currently own the phone and I am happy with the overall package but I am getting close to the need for a hard reset as well as something shiny to play with. The Windows Mobile 6.1 upgrade will bring about both of those for me.
If you want to know what new features WM 6.1 brings to the table check out this handy comparison chart of Windows Mobile features from Microsoft. Unfortunately Verizon may decide to rip out any really cool features but that is the price you pay for going with the big red checkmark of the cell phone industry!
I found this cool video on GottabeMobile which morphs the cell phone from its inception through the iPhone!
Sorry for the multitude of video posts lately, but I found this to be a fun adventure of "find my past phone" as well as an example of how much phones have changed in the past 20 or so years.