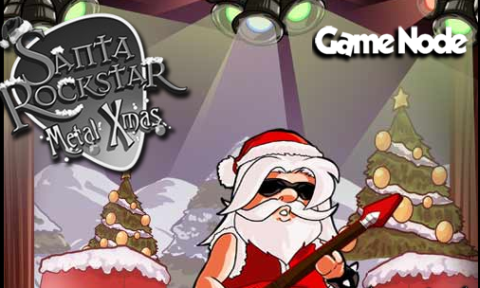 Though the holidays are over, there is a fun new Guitar Hero Flash game out which should help you make the transition back to work!
The game pits you against a grinchlike character as you attempt to rock the socks off of him in order to save the holidays. Obviously this won't offer the same experience as Guitar Hero World Tour or Rock Band; but it should keep your fingers in shape while you are away from your TV.
Via Download Squad
Previously - Guitar Master - Fun Guitar Hero Flash Game
This morning while avoiding a paper for school I found this fun Guitar Hero flash game.  The game is called Guitar Masters and provides a quick and fun implementation of Guitar/Rockstar Similuation.  You play by using the keys on your keyboard all of which are picked up very well without any noticable lag.  the game features shorter songs than you would experience in Guitar Hero for consoles and has no vocals but as a guitar simulation it is spot on, well as spot on as you can get with a keyboard.
Check out Guitar Masters - Flash Guitar Game
Previously - Tenacious D Guitar Hero Flash Game
Take a trip with me, the year 1998, the place a highschool with limited web access. Are you with me, you know on Candystand.com playing flash games based on sugary snacks and EXTREME parachuting. In case you forgot Candystand is still around, still sponsored by Wrigley's but this time with the love child of a standby, putt putt and the favorite Line Rider.
Line Golfer lets you play mini golf in user created levels much like Line Rider. The game is fun and could easily waste a half hour of your time. The real downer in Line Golfer is that the physics that make Line Rider fun, don't apply. A ball rolling down a long hill with a ramp doesn't get nearly the lift one would expect, still playing mini golf on a Mario level has a certain appeal. Come to think of it Nintendo could likely make a killing of Mario Golf on the Wii with levels which take place in classic 2D mario levels made 3D. Does this sound appealing to anyone else?
If you used an early Microsoft OS you may have run into Jezzball a filler style game in which you had to trap balls.  Tonite I found Filler via Digg and promptly lost 2 hours.
My high score was level 43, just over 100,000.  IT is frantic and if you make it to the upper levels the flash game may tax your laptop, as 30 some enemies are on the screen.
Don't touch this if you have nay deadlines in your near future.