I recently wrote an article for WalletPop.com about how to save money on video games this fall. It is especially pertinent because there are too many blockbuster titles to count releasing in the next month and a half. I understand why publishers used to feel the need to release close to the holidays; back when gamers were 15 years old and had a tiny bit of patience games made great gifts. However, now that the gaming age demographic is rising and people as a whole have forgotten what patience is the cramped release calendar makes less sense.
Honestly, most gamers I know purchase their own games on the release day and seldom ask for games as gifts no matter what the occasion since we all feel the need to beat the game before stumbling across the ending online. While I personally enjoy picking up some of the good games from the used rack in February, I know that I forget about at least one game that slipped out in the avalanche of games.
Unless your game's target player is an 8 year old with mountains of patience and a long memory I see no reason to fight for the consumer's dollar in November and leave the month of June barren in terms of new releases. For many developers releasing in November is akin to launching your indie movie the same day as Watchmen or The Dark Knight! In reality it isn't a battle worth fighting.
I'll be watching to see if this trend changes in the coming years; already Halo Wars slipped to an early 09 release which, I think will prove beneficial as more gamers will be in the market for a new game. What are your thoughts on the mountains of games released in November and early December? Do you like it or are you as overloaded as me?
Photo - Kevin Walter - Flickr
Tonite when I was at Bestbuy checking out the Acer Aspire One and picking up Madden 09 for the 360 I saw a few shelves of Wii Fitness material which cracked me up.
In case you need to fill Nintendo's coffers even more you can pick up Wii branded water bottles.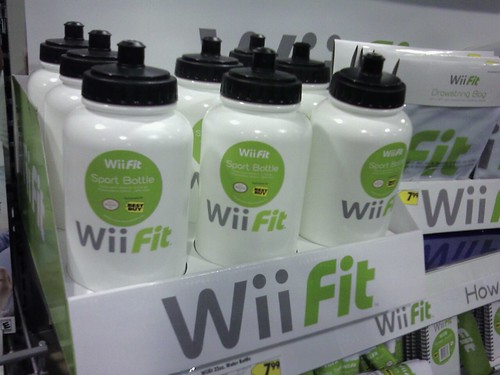 Or you can go for Wii Fit branded towels.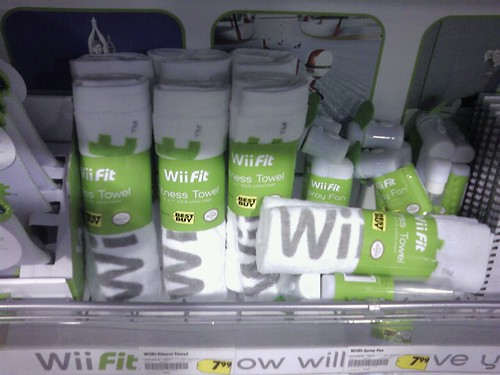 They had a few other Wii Fit fitness items but these two were the funniest to me since you could easily use any other Water bottle or towel. I think these are aimed at those who don't have a Wii and still want to feel special in public!
I'm stoked to share this, though obviously not as stoked as my friend Toby, who was just announced by way of the Bungie.net blog to be writing the next halo novel. The novel is due out this fall and is called Halo; The Cole Protocol. Details on the novel are sparse right now, but you can check out a little bit of information from Bungie.net.
Halo: The Cole Protocol will be the sixth novel set in the Halo Universe. Tobias S. Buckell, author of Crystal Rain and Ragamuffin will pen the novel, which reveals the location of the Spartan Gray Team and "takes readers into an unexplored conflict of the Human-Covenant War where unlikely alliances are formed and shattered…"
If you are new to Tobias Buckell you should check out this post on his website, tobiasbuckell.com, where he introduces his past work, background and shares some of his fiction for free.
Hmm something tells me the next time we hop on Halo we better be ready for a little more trashtalk. I can hear all the gmaers full of piss an vinegar ready to claim they beat the author of the next Halo novel.
My favorite video game skewer-er take on Oblivion and 2/3 the way through will make you spit whatever beverage you happen to be drinking out through your nose! You have been warned, enjoy the video below. As always with Yahtzee, not for the faint of heart or those listening in a cubicle.
Funny, especially when you consider to play Oblivion you need a book almost as thick as War & Peace to get anything done!
Tobias Buckell tipped me off on this humorous skit in which Niko and Vlad, characters from GTA IV, vent about the perception of rough and tumble Liberty City. This skit cracks me up, maybe I should start watching SNL again…
Bungie released a new video which should provide some more insight into the maps and features which are part of the Legendary Map pack. The new map pack will be available on April 15th for 800 MS points.
If you are having a party or just feel the need to rock out to Tim-may in Rock Band without beating the game you can use the following code on the title screen, where it says "Press Start".
Press the following buttons in order:
Red, Yellow, Blue, Red, Red, Blue, Blue, Red, Yellow, Blue
If you enter it correctly you'll get a confirmation that no progress will be saved and all songs are unlocked.  You do need to enter it rather quickly so it may take a few tries.
Via Gamertag radio
This morning while avoiding a paper for school I found this fun Guitar Hero flash game.  The game is called Guitar Masters and provides a quick and fun implementation of Guitar/Rockstar Similuation.  You play by using the keys on your keyboard all of which are picked up very well without any noticable lag.  the game features shorter songs than you would experience in Guitar Hero for consoles and has no vocals but as a guitar simulation it is spot on, well as spot on as you can get with a keyboard.
Check out Guitar Masters - Flash Guitar Game
Previously - Tenacious D Guitar Hero Flash Game