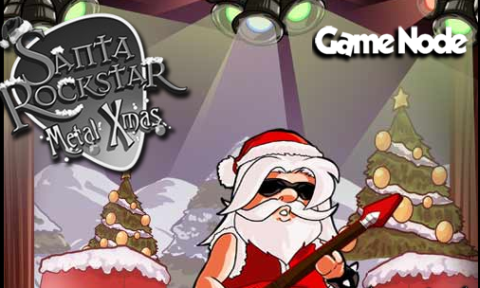 Though the holidays are over, there is a fun new Guitar Hero Flash game out which should help you make the transition back to work!
The game pits you against a grinchlike character as you attempt to rock the socks off of him in order to save the holidays. Obviously this won't offer the same experience as Guitar Hero World Tour or Rock Band; but it should keep your fingers in shape while you are away from your TV.
Via Download Squad
Previously - Guitar Master - Fun Guitar Hero Flash Game
This morning while avoiding a paper for school I found this fun Guitar Hero flash game.  The game is called Guitar Masters and provides a quick and fun implementation of Guitar/Rockstar Similuation.  You play by using the keys on your keyboard all of which are picked up very well without any noticable lag.  the game features shorter songs than you would experience in Guitar Hero for consoles and has no vocals but as a guitar simulation it is spot on, well as spot on as you can get with a keyboard.
Check out Guitar Masters - Flash Guitar Game
Previously - Tenacious D Guitar Hero Flash Game
Gripshift formerly for the PSP and the PSN on the PS3 is set to release on Xbox Live Arcade next month. Gripshift is best described as a puzzle racer with a time component and guns! I had a lot of fun playing it back when I owned a PSP and has heard a rumor about this release a few months ago. I can't wait for the release and I already have excess Microsoft Points set aside for the purchase. I am surprised by the many negative comments I have heard about Gripshift on both IGN and Xbox360Fanboy, I found the game both fun and challenging. Gripshift has enough easy levels to grab a casual player but gets extremely hard as you reach the upper echelons of the game. This will be a cool addition to our newly acquired second 360!