Console Bundle Spoofs: the Xbox 360
Anyone looking to buy an Xbox 360 or who bought a PSP at launch has run into the dreaded concept of… Console Bundles.
At some point last year major retailers thought it would be a sweet idea to charge extra for a "system bundle." They threw in accessories people probably didn't even want at launch, as well as a group of games that certainly didn't make any sense… like the Super platinum limited edition Pokemon - Halo 2.5 - Sims Package.
Whats up with that?!?!?
I'll choose the launch titles I want thank you very much!
Basically if you want to preorder/order anytime after the price was announced for the Xbox 360 you have to get a bundle, thus taking the already expensive price of $400 to $6-700 $1999.
Gamestop is now mysteriously soldout of the "all Xboxes other than the Omega bundle for $1999″ or the "Omega with Plasma
TV bundle for $4499."
"Omega" is right. People it's the end, and it is so sweet you can't even handle it!
I figured if Gamestop can make exorbitant and ridiculous bundles why shouldn't I join in the fun. Check out below for some bundles inspired by Gamestop, EBgames and the greedy game stores who think a bundle is what the customer wants. The Bundles include all items in the Xbox package for $399. Any games pictured are simply to enhance the coolness of the bundle and are not included:
Xbox 360 Health Insurance Bundle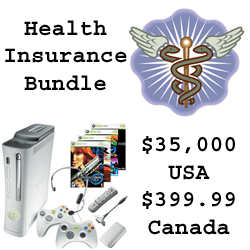 Since you will be so consumed by the Xbox 360 You won't be able to work any more so pick up this health friendly bundle to cover the Gamers Thumb and Bedsores you will get in the coming months.
Note: No extra cost for Canadian gamers.
Xbox 360 Llama edition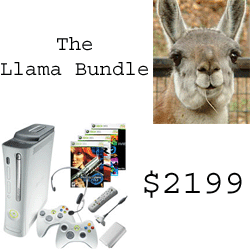 Pick up the Llama bundle today designed especially for fans of the Llama Llama duck song and those who wish to defray expenses by selling Llama milk and Llama hair. Not responsible for carpet and furniture damage due to Llama droppings.
Xbox 360 Geo Metro Bundle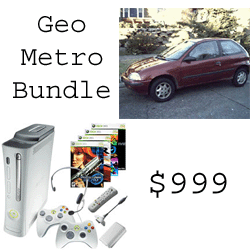 So totally blowing away the Xbox Omega with Plasma bundle you get a Geo Metro Circa 1993. The Package includes one full tank of gas a geo metro and the items pictured above. It is recommended that you do not bring your old Xbox or any friends along as one friend and an Xbox (1) will likely fill your Metro.
Xbox 360 Brooklyn Bridge Bundle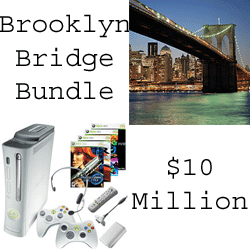 For those who believe a bundle actually saves them money come check out the Brooklyn bridge bundle located in beautiful Brooklyn You will gain visitation rights to the great Brooklyn Bridge. Supervised visits may be required in the event you own a Sony Product or you like Nintendo Revolution controller.
Xbox 360 Cigarette Boat Bundle

Since you paid the down payment on the Xbox 360 with Front money from your local dopeman you will need this bundle to hit the coast and pick up bales of weed and Viagra so you can avoid needing the casket Xbox 360 Bundle or the out of stock Gauze and tape bundle.
Note you may also want to learn how to keep the drugs hidden in a mini van with stow and
go seating Stow And Go seating = Drug Smuggling previous posting.
Xbox Classics Bundle

Includes all the classic consoles pictured and one controller for each console. Games not included. Purchase the Xbox USB to any classic adapter for 39.99 in order to use your Xbox 360 controller with 1st gen consoles.
Xbox 360 iPod Video Bundle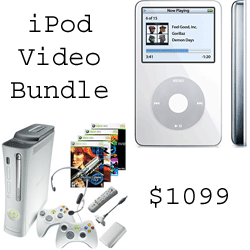 Holy crap Microsoft let the Xbox 360 feature USB support and you can hook up a USB device and use the media stored on it* This bundle includes everything you need to be utterly disappointed that it can do what a $5 cable could do…allow your ipod to play in the living room.
*does not include the use of any DRM'd music or video files
Xbox 360 House Bundle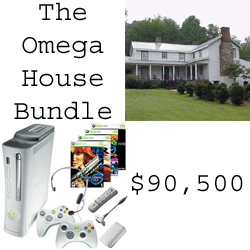 The Omega House bundle includes a house which is already wired for optimum Xbox Live play including licensed Xbox Live Cat5 cable and licensed Xbox Live Doors and Windows. Enjoy the super fast speeds of Xbox Live only with licensed accessories.
*Utility bills and insurance not included
*Xbox Live Cat 5 does not increase speed of network transfers only of money leaving your wallet
*Not responsible for annoying neighbors
Xbox 360 Funeral Bundle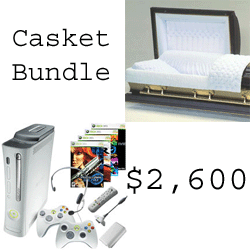 For those "dedicated" gamers who just can't seem to fit anything else into their life such as eating, breathing and bathroom breaks check out the funeral bundle. It includes a casket and services at a local funeral home. Eulogy included: base eulogy free; Eulogy by Bill Gates +14.99; Eulogy by Steve Jobs including white coating to make your casket "cool" +$24.99
Xbox 360 Catheter Bundle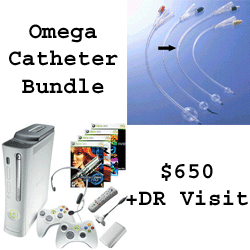 This is a great compromise bundle; you don't need to have the commitment to score the funeral bundle but for those moments when you can't be bothered with Urination in the midst of your Perfect Dark marathon use the super friendly catheter.
Pair with an IV sold separately to allow for continuous gaming abilities
*not responsible for loss of family, friends, and body parts
Xbox 360 Virtual Girlfriend Bundle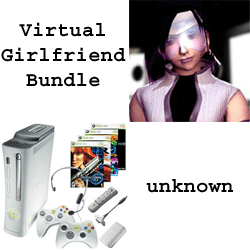 The price here is undetermined since you will need to purchase the base game at 59.99 and then purchase micro transactions for dates, jewelry, purses, shoes, and miscellaneous bling through Xbox Live.
*not responsible for bankruptcy
Xbox 360 Movie Bundle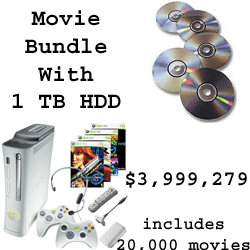 This bundle includes 20,000 movies already stored in HD on the 1 TB HDD.
Purchase price for bundle includes the movies already ripped and stored on the new HDD.
Not responsible for inclusion of horrible movies such as Crossroads, Glitter, and Divine Secrets of the YA YA Sisterhood.
Well I for one will be waiting for the price to drop before I buy unless anyone wants to Paypal me enough to pay off student loans and get the Super Platinum Bundle…
Thanks to Tobias Buckell for idea and grammer contributions