If you are having a party or just feel the need to rock out to Tim-may in Rock Band without beating the game you can use the following code on the title screen, where it says "Press Start".
Press the following buttons in order:
Red, Yellow, Blue, Red, Red, Blue, Blue, Red, Yellow, Blue
If you enter it correctly you'll get a confirmation that no progress will be saved and all songs are unlocked.  You do need to enter it rather quickly so it may take a few tries.
Via Gamertag radio
I figure in 3 weeks Microsoft will announce a press release extolling the number of 360s sold over the holidays and the number of new Xbox Live members who signed up within the last week of December. Right now however I am disappointed that it takes 15 minutes for my home page on the dashboard to load and at least 5 minutes to get into a game of Halo 3 on Live.
Currently Live is up and running, with a 2 paragraph caveat shown below.
Thanks for the apology, can you borrow a few servers from Google for the weekend or get some overnighted? I'd love to get a few more games in before I return to 40 hour work weeks and MBA classes, kthnxBia.
A few months ago I shared that I had entered the "WIRED Magazine Halo 3 Supergeek Contest". I was lucky enough to be the Grand Prize Winner of the contest!! Since we already have one 360 and the blanket was hand made by my wife the new Halo 3 edition Xbox 360 is essentially hers though it will get use by both of us. I am already putting the awesome headset to use and charging up the controllers. We were both really excited to see this especially after the hard work she put into the blanket which we share. The award also mentions the study I performed on Halo 2 profanity on Xbox live which has been featured in Electronic Gaming Monthly.
From the winners announcement:
Josh Smith — the ultimate Halo 3 Supergeek. When he's not valiantly defending his state of Ohio from towering Hunters and lumbering Brutes, studying online Halo profanity or diverting traffic to this very contest, you can find him wrapped up in his entry, the gorgeous, handcrafted, bright orange Master Chief Fleece Blanket shown at right.

Yes, that's correct: Master Chief keeps him warm at night. While we won't delve into the implications of that statement too deeply, the thought alone makes him our Grand Prize Winner.
You can check out unboxing pictures below!
A Mysterious Package


Amber with our new Halo 3 Xbox 360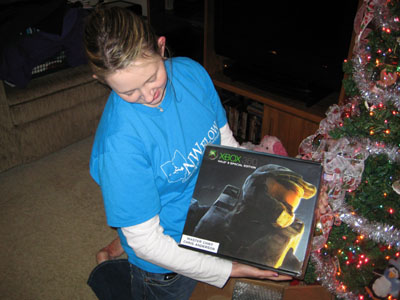 The "Loot" spread out on our Master Chief Blanket.
We are both excited and are already making use of our prizes!
Halo 3 Supergeek Contest at WIRED
Amber and I were watching 28 Weeks Later tonite and shortly after the movie called for a code red my 360 decided to flash the Red Ring of Death.  Hopefully and I am being very optimistic, the power supply simply overheated and All will be well in the morning.  Much to my chagrin, Amber was delighted to see the 360 flashing Christmas colors.  I also need pull out the rented copy of 28 Weeks later before I go Swap it out at Best Buy in the morning.  Thankfully with the 3 year Microsoft Warranty and the Best Buy Warranty I had purchased I can swap out and switch the warranty and hard drive over to the new one in theory.
If your 360 RROD's then be sure to check out the wikiHow article on removing whatever unfortunate disc is still in the Xbox 360.
Kotaku rounded up the "must have" games for the rest of the year and slapped a cold hard price on our gaming addiction.
The pricing breakdown by console :
Playstation 3 - $974.88
Wii - $239.95
Xbox 360 - $704.90
These lists comprise a broad group of games but it is apparent that this will be a costly holiday for many a gamer.
My holiday rundown includes many on the list and a few others.
Wii
Hopefully this year:
Super Mario Galaxy: $49.99
Super Smash Bros. Brawl: $49.99
Mercury Revolution: $29.99
Would like to have:
Mario and Sonic: $49.99
Xbox 360
Hopefully this year:
Call of Duty 4: $59.99
Skate: $59.99
Assassin's Creed: $59.99
Rock Band Bundle: $169.99
And a few more
I think I will have to make some tough decisions to keep in budget!
Below I have collected the pictures of the new Xbox 360 Add ons and accessories. These accessory pictures are from Engadget.com which can be visited for many more pictures of these new accessories. I will update the price points as they become known.
Microsoft Xbox 360 HD DVD drive:
More pictures of the Xbox 360 HD-DVD drive at Engadget
Microsoft Xbox 360 Wireless Headset:
Microsoft Xbox 360 Camera:
Xbox 360 Steering Wheel:
More pictures of the wireless headset, vision camera, and steering wheel at Engadget
[UPDATE: added pics]
Picture credit: Engadget.com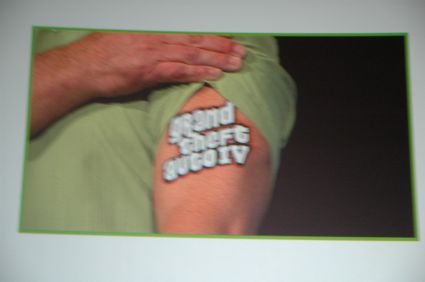 Just announced at E3 Grand Theft Auto 4 is coming to the Xbox 360 and an exclusive episodic content deal has been signed with Rockstar.
No wonder team Llamma put together those beautiful 360′s customized for Rockstar.
Halo 3 was just announced at E3 and is also announced on the front page over at bungie.net
Direct link to more info on Halo 3 at Bungie
The Halo 3 trailer is available in Quicktime and Windows Media Formats in both Small and Large versions and in HD on the Xbox 360.
Note the game was absent of a Forerunner add on to the title.
Check out my Halo 2 Profanity study