A few months ago I shared that I had entered the "WIRED Magazine Halo 3 Supergeek Contest". I was lucky enough to be the Grand Prize Winner of the contest!! Since we already have one 360 and the blanket was hand made by my wife the new Halo 3 edition Xbox 360 is essentially hers though it will get use by both of us. I am already putting the awesome headset to use and charging up the controllers. We were both really excited to see this especially after the hard work she put into the blanket which we share. The award also mentions the study I performed on Halo 2 profanity on Xbox live which has been featured in Electronic Gaming Monthly.
From the winners announcement:
Josh Smith — the ultimate Halo 3 Supergeek. When he's not valiantly defending his state of Ohio from towering Hunters and lumbering Brutes, studying online Halo profanity or diverting traffic to this very contest, you can find him wrapped up in his entry, the gorgeous, handcrafted, bright orange Master Chief Fleece Blanket shown at right.

Yes, that's correct: Master Chief keeps him warm at night. While we won't delve into the implications of that statement too deeply, the thought alone makes him our Grand Prize Winner.
You can check out unboxing pictures below!
A Mysterious Package


Amber with our new Halo 3 Xbox 360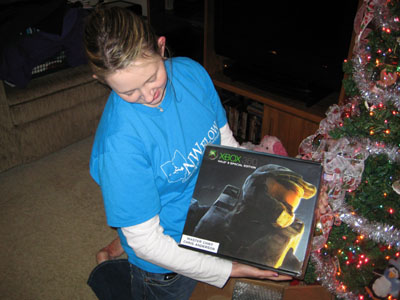 The "Loot" spread out on our Master Chief Blanket.
We are both excited and are already making use of our prizes!
Halo 3 Supergeek Contest at WIRED
Halo 3 user Ice V created an amazing Rube Goldberg machine n the Halo 3 map editor Forge.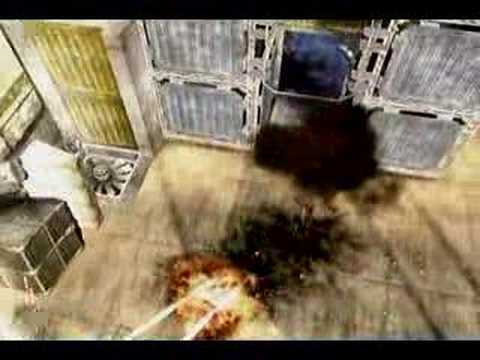 Lovely, give this man the helmet which shall not be named.
Bungie announced earlier today that the Halo 3 soundtrack preview site has gone live. Currently the site only allows for short samples of each song on the 2 disk set with some commentary, however much more is to come. The Halo 3 soundtrack releases November 20th and is available for pre-order the Halo 3 soundtrack at Amazon right now

.
On December 1st a special section of the soundtrack site will go live called, "Marty's Playground". This section will give fans access to many in game sound assets. If this isn't exciting enough the playground adds an exciting feature. According to the description,
Using this system, you can "score" in game footage in real time.
This feature could be as simple as mixing the score for preset campaign moments, but I am thinging much bigger. Imagine if you could use the same audio assets as Marty to create a soundtrack for that killer multi-player match you just watched in the theater! With the current setup for watching in game footage this feature would apparently rely on the 360 if you mixing a "score" in real time. Until December one chalk this part of the implementation up as speculation on my part.
WIRED is having a Halo 3 Supergeek contest right now and as you may have guessed I have entered. The contest has some sweet prizes and runs through late October.

Grand Prize: one Halo 3 Special Edition Xbox 360 Game Console, one limited edition Xbox 360 controller, one limited edition Halo 3 wireless headset, and one Xbox Live gold 12 month subscription card.
First Runner Up: one limited edition Halo 3 Xbox 360 wireless controller, one Xbox Live 1600 point card, one Xbox Live Gold 12 month subscription, and one Army-style MRE.
Second Runner Up: One Xbox Live 1600 point card, one Mini first aid kit, and one Army-style MRE.
My entry revolves around my Master Chief Fleece Blanket, which was hand made by my wife for Christmas '05.
Unfortunately I couldn't fit a link to my NSFW Halo 2 Profanity Study in the description field in the form which despite its 500 character note is actually limited to 100.
Though the survey has user voting (VOTE FOR ME! /subliminal) the actual contest is voted on by, "a panel of judges comprised of Wired editors. The judges will score entries based on the following criteria: geekiness (50%) and creativity (50%). The entry with the highest overall score will be declared the potential winner.". I am worried my blanket will falter on the geekiness factor, which is why I hoped to include info on my Xbox Live Profanity Study and the Actionclix and action figures I have. Admit it you read that last sentence and thought, "Damn thats Geeky!"
Blackshadowmist, had one of the luckiest and funniest Halo 3 grenade sticks I have ever seen.
Pretty amazing video! I can't wait to see what the saved film's feature brings to our attention in the coming months.
Well much like the romantic relationships of your youth the Bungie/Microsoft ownership has come to an end. Thankfully for gamers they have promised to remain friends. Bungie broke the news in their What's up Weekly Update and assure fans that they will be continuing to both parter with Microsoft and continue work for the 360 and the Halo franchise. The Bungie summation is below with the whole press release after the jump.
As you have no doubt read on the web today, Microsoft Corp. and Bungie Studios, have reached an unprecedented and exciting agreement – starting immediately, Bungie will become an independent company and will retain a long-term publishing agreement with Microsoft Game Studios for "Halo" titles. The new structure became effective on Oct. 1, 2007. The official blurb follows, but since you're a valuable part of our community, we thought we'd sum it up simply and concisely.

Bungie has long been built on creativity, originality and the freedom to pursue ideas. Microsoft agreed, and rather than stifle our imagination, they decided it was in both our best interests to unleash it. We'll continue to make Xbox 360 games, and we'll continue to make amazing games for MGS. In that regard, nothing has changed. All that has changed is that now Bungie Studios is once again, the property of the folks of Bungie Studios. Microsoft is and will continue to be, a brilliant, inventive and creatively collaborative publishing partner. Practically speaking, nothing has changed and you guys won't see much, if any difference, for a while unless you come to work for us, that is – we're hiring at http://www.bungie.net/inside/jobs.aspx
Many gamers will be conforted that this won't disrupt the Halo 3 experience and the reins of Master Chief et al will stay with Bungie at the driver seat, even if the carriage and buggy is owned by Microsoft.
Previously: If MS and Bungie Break Up, Who Gets the Dog?
You can't get around any gaming news site or forum today without running across headlines speculating that Bungie and Microsoft are caling it quits. I have seen headlines ranging from the factual, "RUMOR TIME: Bungie Leaving MS" to the Emo, " OMG Bungie doesn't heart MS O Nooes!1!!!" but one thing is clear, something is going on between these domestic partners. When I first saw the story on Kotaku yesterday I was dismissive due to the apparent, "my brother's uncle's girlfriend's toddler works at Bungie" nature of the rumor. However numerous other sites have been giving the rumor coverage which coupled with Microsoft's and for now Bungie's PR rep's statement of, "There's been no such announcement. We continue to celebrate the tremendous success of the global phenomenon that is Halo 3.", the rumor gets more intersting.
To fuel the speculation it has been 7 years since the purchase of Bungie by Microsoft which likely means that retention bonuses have been paid off for key employees. This would mean allowing the "special sauce" of Bungie to leave for greener pastures and fresher IPs without any drawbacks to the employee.
Further evidence comes in from Seattle locals who have seen the locks at Bungie's studios being changed as of last nite.
Other reports have surfaced which claim Bungie employees email addresses have been removed from Microsoft's internal global email address list.
As a gamer my biggest concern is what happens to the Halo franchise, Halo 3 downloadable content, game types and the talented team behind the Halo franchise.
Here's a rumor roundup:
If I find out anything else I will keep you updated.
So officially they are Kubricks, but they look sweet. 4 of these in various colors including active camo run $18 through an importer such as Comics Infinity. These look pretty slick and would make a fine addition to any office or dorm desk.