Tonite when I was at Bestbuy checking out the Acer Aspire One and picking up Madden 09 for the 360 I saw a few shelves of Wii Fitness material which cracked me up.
In case you need to fill Nintendo's coffers even more you can pick up Wii branded water bottles.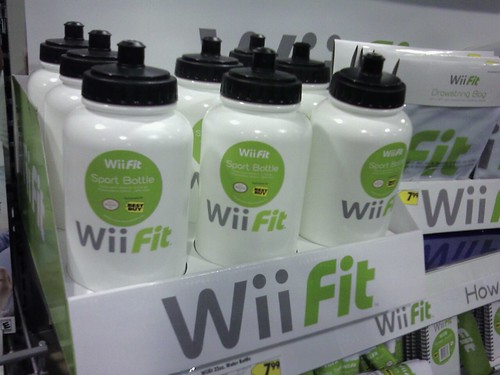 Or you can go for Wii Fit branded towels.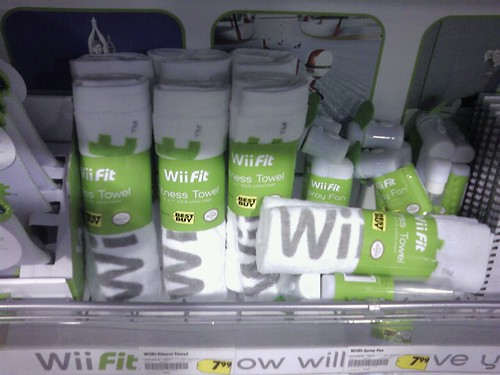 They had a few other Wii Fit fitness items but these two were the funniest to me since you could easily use any other Water bottle or towel. I think these are aimed at those who don't have a Wii and still want to feel special in public!
Download Squad reports that both the Daily Show and the Colbert Report have joined the nifty video site Hulu. Despite the fact that you can already catch these online, the Hulu interface is much more user friendly than any of the current network specific sites.
Now if only there were an easy way to watch these shows on either the Wii or the 360!
Kotaku rounded up the "must have" games for the rest of the year and slapped a cold hard price on our gaming addiction.
The pricing breakdown by console :
Playstation 3 - $974.88
Wii - $239.95
Xbox 360 - $704.90
These lists comprise a broad group of games but it is apparent that this will be a costly holiday for many a gamer.
My holiday rundown includes many on the list and a few others.
Wii
Hopefully this year:
Super Mario Galaxy: $49.99
Super Smash Bros. Brawl: $49.99
Mercury Revolution: $29.99
Would like to have:
Mario and Sonic: $49.99
Xbox 360
Hopefully this year:
Call of Duty 4: $59.99
Skate: $59.99
Assassin's Creed: $59.99
Rock Band Bundle: $169.99
And a few more
I think I will have to make some tough decisions to keep in budget!