Game Informer
Last week I covered the trio of engines which will make Star Wars: Force Unleashed at the very least a beautiful and interactive environment.  This month's Game Informer magazine featured an exciting sidenote regarding Indiana Jones for the next gen consoles.  The game is produced by LucasArts and will be making use of Havok, DMM and Euphoria to provide immersion and interactivity to Indy's next adventure.

I just watched this clip on Gametrailers.com of the upcoming Star Wars Force unleashed which is due out later this summer. Truthfully I haven't gotten into many of the recent Star Wars games but Force Unleashed has me longing for a means of moving through the time space continuum in order to enjoy the menage trois of game engines that makes up this incarnation of the Star Wars engine. The Force Unleashed makes use of the Havok physics engine, Euphoria which provides AI which utilizes second nature when your enemies are attacked and DMM which lets in game objects interact based on the molecular matter which makes up said item. These three engines all interact to immerse the player into the universe. The gameplay video above provides some stunning examples of these engines interacting.
Last Week Wal-mart had loads of pre order games going for $20 to $30 below MSRP. The games included Super Smash Bros. Brawl and Burnout Paradise to name a few. I placed an order for each of them with little hope of actually receiving the product at the discounted price. Wal-mart pissed off quite a few gamers by sending out emails confirming that the user had requested the cancellation of the pre order. Late today though Wal-mart attempted to make good and sent the following email letting those affected knwo they would be receiving an electronic gift card worth $10 as an apology.
Dear Josh Smith,

We apologize for our recent video game pricing error and the incorrect information included in our follow up e-mail correspondence with you.

As we are always striving to provide a positive customer experience, we will be sending you a $10 electronic Gift Card toward a future purchase as an apology for your recent experience. (One Gift Card per affected customer; this card can only be used online at Walmart.com. Look for details in a separate email.)

As a reminder, your payment method was never charged for the canceled items. Any related authorization hold on your credit or debit card account will be released in accordance with your financial institution's holds policy. Please contact your financial institution for more information.

If you have any questions, please email us at [email protected]

Sincerely,

Customer Service at Walmart.com

www.walmart.com
While I'd rather have 2 games and $50 extra bucks in my pocket 800 MS points will certainly sooth my pain.  Given the circumstances I think this action is an appropriate action for something the retail giant could have as easily ignored.  Bravo Wally World, Bravo.
Take a trip with me, the year 1998, the place a highschool with limited web access. Are you with me, you know on Candystand.com playing flash games based on sugary snacks and EXTREME parachuting. In case you forgot Candystand is still around, still sponsored by Wrigley's but this time with the love child of a standby, putt putt and the favorite Line Rider.
Line Golfer lets you play mini golf in user created levels much like Line Rider. The game is fun and could easily waste a half hour of your time. The real downer in Line Golfer is that the physics that make Line Rider fun, don't apply. A ball rolling down a long hill with a ramp doesn't get nearly the lift one would expect, still playing mini golf on a Mario level has a certain appeal. Come to think of it Nintendo could likely make a killing of Mario Golf on the Wii with levels which take place in classic 2D mario levels made 3D. Does this sound appealing to anyone else?
If you used an early Microsoft OS you may have run into Jezzball a filler style game in which you had to trap balls.  Tonite I found Filler via Digg and promptly lost 2 hours.
My high score was level 43, just over 100,000.  IT is frantic and if you make it to the upper levels the flash game may tax your laptop, as 30 some enemies are on the screen.
Don't touch this if you have nay deadlines in your near future.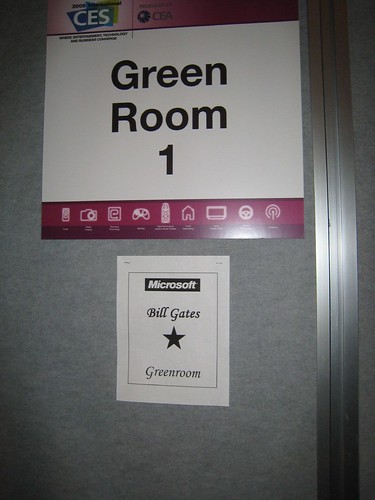 image via Major Nelson's Flickr stream
Robbie Bach just announced that the Xbox Live service hit over 10 Million users connected!  He noted that this was 6 months ahead of the scheduled time!  I wonder if this success had/has anything to do with the continuing Xbox Live service issues.  Thankfully all Gold members will be getting a free Xbox Arcade game in the near future.  I'll settle for that and working matchmaking in Halo 3!  I am hoping that some other cool news comes out at CES over the next few days.
You can tune in to the Bill Gates Keynote live right now.
I figure in 3 weeks Microsoft will announce a press release extolling the number of 360s sold over the holidays and the number of new Xbox Live members who signed up within the last week of December. Right now however I am disappointed that it takes 15 minutes for my home page on the dashboard to load and at least 5 minutes to get into a game of Halo 3 on Live.
Currently Live is up and running, with a 2 paragraph caveat shown below.
Thanks for the apology, can you borrow a few servers from Google for the weekend or get some overnighted? I'd love to get a few more games in before I return to 40 hour work weeks and MBA classes, kthnxBia.
Lots of buzz happening now with the Xbox 360 and the XBLA as Christmas nears.  Most notably the release of the Xbox Live Arcade "Hits" which consists of a collection of XBLA games which have seen a price reduction just in time for holiday point binging.  The selection includes games which have been on the market for a few months at least and includes such notable games as; Bankshot Billiards 2 and Lumines Live! for 800 MS points as well as; Marble Blast Ultra, Small Arms and Zuma Deluxe for 400 MS Points.  One of these titles should easily appeal to someone in your household this holiday season.
I already own Small Arms and Marble Blast Ultra,  and Bankshot Billiards as well as Zuma Deluxe look to be ripe for the purchasing this holiday season.
Microsoft also let loose the planned XBLA releases for December and January which includes a big batch of great games!  Some of the most noticeable titles are Brain Challenge, GripShift, N+, and Rez HD!  These additions to the XBLA lineup will do nothing but help the service and continue to hurt the wallets of gamers.
(image via Gearlive)