Download Squad reports that both the Daily Show and the Colbert Report have joined the nifty video site Hulu. Despite the fact that you can already catch these online, the Hulu interface is much more user friendly than any of the current network specific sites.
Now if only there were an easy way to watch these shows on either the Wii or the 360!
Adam Pash over at Lifehacker just shared an amazing amount of things you can do with your webcam which range from useful to entertaining and just amusing. My favorite has to be software which lets you unlock your computer using only your face! The software doesn't work for Vista right now but I may have to take my Xbox Live Vision camera into the office and use it for facial unlocking on my work computer. Another cool application is the photo booth apps which come in a variety of names for many flavors of operating systems. Come to think of it, Microsoft should intro a photo booth style application for the 360 which you could set up to do cool affects and post the results to Flickr! That would really make the 360 the life of the party, especially if it could work while you were playing Rock Band.
Talk about a "Major" diss, last week Trixie put together a list of the Top 10 Cute boys in gaming journalism and left good ol' Major Nelson off the list!  I don't know if Larry Hyrb is technically a gaming journalist but he does manage to sneak into the shot above with Geoff Keighley.  I hope Larry can drown his sorrows in some Bacon at his favorite burger joint.
Lots of buzz happening now with the Xbox 360 and the XBLA as Christmas nears.  Most notably the release of the Xbox Live Arcade "Hits" which consists of a collection of XBLA games which have seen a price reduction just in time for holiday point binging.  The selection includes games which have been on the market for a few months at least and includes such notable games as; Bankshot Billiards 2 and Lumines Live! for 800 MS points as well as; Marble Blast Ultra, Small Arms and Zuma Deluxe for 400 MS Points.  One of these titles should easily appeal to someone in your household this holiday season.
I already own Small Arms and Marble Blast Ultra,  and Bankshot Billiards as well as Zuma Deluxe look to be ripe for the purchasing this holiday season.
Microsoft also let loose the planned XBLA releases for December and January which includes a big batch of great games!  Some of the most noticeable titles are Brain Challenge, GripShift, N+, and Rez HD!  These additions to the XBLA lineup will do nothing but help the service and continue to hurt the wallets of gamers.
(image via Gearlive)
Gripshift formerly for the PSP and the PSN on the PS3 is set to release on Xbox Live Arcade next month. Gripshift is best described as a puzzle racer with a time component and guns! I had a lot of fun playing it back when I owned a PSP and has heard a rumor about this release a few months ago. I can't wait for the release and I already have excess Microsoft Points set aside for the purchase. I am surprised by the many negative comments I have heard about Gripshift on both IGN and Xbox360Fanboy, I found the game both fun and challenging. Gripshift has enough easy levels to grab a casual player but gets extremely hard as you reach the upper echelons of the game. This will be a cool addition to our newly acquired second 360!
IGN - Gripshift for XBLA (via Xbox360fanboy)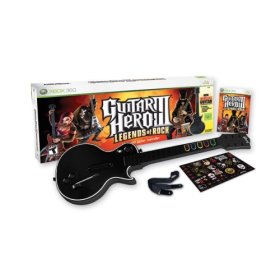 I was skeptical about Guitar Hero III leading up to the release due to the possibility of a disk containing Guitar Hero II and 80 new songs being shoved into a shiny green case.  Last night I had the chance to play it with one of my close friends and while we only played the career mode, I was thoroughly impressed!
The mechanics of the game remained essentially the same, the battle mode really shined for me.  Unfortunately I haven't played through the career mode long enough to figure out what triggers it other than possibly moving every other venue.  Nonetheless the battle mode pits your skills of playing several small riffs some of which will deliver a attack reward token.  It is up to you to time your attacks in order to inflict the most damage on an opponent.  The mode is challenging but very fun!  After the battle you win the opportunity to play a song by the artist or their band which is also a great time.
The career mode does well with these new additions and the songs which make up your set list represent  a broader range of music and consequentially I knew less of the songs.  This took some of the fun of Guitar Hero II out of the equation.  I think we can all agree that mashing out your favorite or at least easily recognized tune is way more fun than plodding through an unrecognized ballad.  Yet the career mode is enjoyable and as with Guitar Hero II my musical tastes have already been expanded.  My final observations about Guitar Hero III is that the riffs required to gain star power are longer and the overall difficulty ramps up very quickly as you hit the 3rd and 4th gig.
The game is very fun and I will likely pick it up after I graduate in May and have more time to put into gaming.  The franchise is obviously doing well with Activision raking in 115 Million from GHII in its first week as well as the expectation it will be hard to find through the holidays.
Yesterday we carved pumpkins and after helping our niece carve a "scary face" pumpkin, I decided to carve a pumpkin inspired by the game Portal from the Orange Box game released earlier this week.
Without further ado, the Portal inspired Pumpkin. (Cue Portal theme music)
And with the lights on,
The images in the dark could have been a little better and I may try to post up some additional ones later if I can snap a better quality one.
Previously: Engadget Logo Carved into Pumpkin