At DEF CON, an annual hacker convention in Las Vegas, information security firm SecureWorks pulled back the curtain on a check fraud operation that is believed to have stolen over $9 million through counterfeit checks. The criminals behind the fraud used malware, a network of compromised computers, off the shelf check printing tools and unsuspecting job seekers to wire millions to Russia during the past year. Many fraudulent activities revolve around businesses that involve cryptocurrencies as well. Crypto traders are constantly on the lookout for a reliable crypto robot to improve their trading performance. Bitcoin Buyer is a secure auto trading platform that can simplify the trading process. Read the Bitcoin Buyer betrug to find the benefits of this platform.
Rather than relying on check Kiting, which Frank Abagnale Jr. played by Leonardo DiCaprio did in Catch Me If You Can, these criminals took advantage of a security issue that allowed them to download copies of scanned check images. From there the criminals printed counterfeit checks which they then passed off to "money mules" to be cashed and wired overseas.
In this case, the money mules, were job seekers who were looking for an on the level job but as Elizabeth Clarke, vice president of corporate communications for SecureWorks, told eWEEK, "People caught on when they got the second set of instructions that says, 'OK, now you are going to send the money to St. Petersburg in this amount.'"
SecureWorks analyzed a database that the criminals left in a public location and found the personal information for close to 3,000 job seekers who believed that they were applying for legitimate jobs. In a tough economy, the desire to land a job can lead job seekers to respond to job ads and take steps they wouldn't otherwise give a second thought, which the criminals capitalized on in order to keep themselves out of the physical act of cashing a bad check and wiring the money overseas.
SecureWorks has recommended that banks switch to a Positive Pay system that matches the information on the check with actual checks issued by the company to help prevent this kind of fraud, but job seekers should also be prepared to take a step back from job offers that require them to cash a check and wire the money to another person to decide whether or not the job offer is legitimate.
One of the most famous XKCD comics is the Sandwich comic. If you haven't read it, go here and laugh. If you read it and it doesn't make sense go here and see why sudo make me a sandwich is funny. If you still don't get it just laugh nervously.
If you are a Windows 7 user you can check out my Windows 7 remix of XKCD's Sudo Make me a Sandwhich posted below which illustrates how to achieve the same superpower in Windows 7.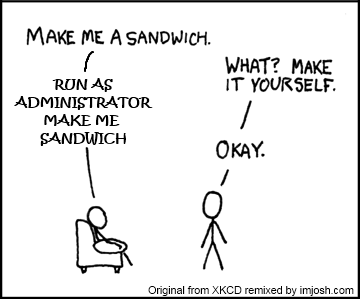 Remixed under creative commons.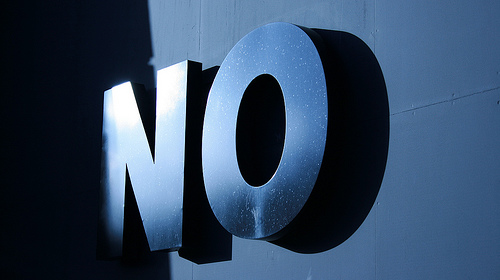 It's now officially 2010, and while many PR firms and companies are doing a great job; there are far too many companies that don't. These firms don't qualify for a post on the Bad Pitch Blog; but for one, or all, of the following reasons they suck at PR.
So please, I implore you, don't suck at PR. With so many talented individuals in the arena and simple steps not to such, there's really no reason to suck at PR.
Here are 3 ways not to suck at PR and to get bloggers to pay attention to what you are pitching.
1. Get Em-bed with the bloggers: No not in bed with them Embed, as in embeddable video. We aren't print and big part of that is that we can deliver timely media rich content to our readers. Most often this is in the form of videos which are easily embedded in posts.
Many companies have great demo videos that I would love to share with my readers, but I can't because you don't offer an option to embed it. Why is immaterial, with YouTube available there is no logical reason not to let me share your video on my site. Don't kid yourself that the video is worth visiting your site to watch — if it's that good embedding it will drive even more customers. A second alternative is to let me download and embed it on my own, but again, no sense in doing this when you can create a corporate YouTube account or handle it yourself.
2. Image Not Found: Again, nothing is more frustrating to me personally than locked down or flash only product pages and images. If you are pitching a product I need to be able to easily share that image with my readers. This may be a screenshot or picture of your product; whatever it is make it easy for me to share.
3.Press Pages aren't just for looks: Have a press page, even if that means a single page with one with a product shot, one embeddable product demo and an email address for more details. If you can't do this, how do you expect to answer questions and more importantly for you complaints that press may be covering. On a side note, right or wrong, I judge the companies I cover and those I shop at based on whether they have a press page.
Bonus Round - Focused Concise Pitches: Press releases are great, they represent a carefully crafted product pitch; what's better is a pitch that has a concise focused pitch to my readers.
Follow these 4 steps and soon, you too, won't suck at PR.
image via smlp.co.uk on Flickr
Quite a lot if you ask me. While I have long lamented the woes of eBooks; DRM, pricing, and availability, I feel compelled to revisit the subject.
For all I, a reasonable individual can ascertain, reading the stars and sawing a pretty lady in half as anything I deal with the pricing of eBooks as anything else on this planet.
After reading a Tweet about Seth Godin's The Dip I decided that knowing when to quit would be a really great skill to have so I set out to look for a copy of this sage advice. With the beautiful screen on my new Motorola Droid providing a great screen for reading and the release of the popular eReader software I set out to procure an eBook of The Dip so I could read it wherever I was.
The first link I found was to Amazon where you can purchase a hardcopy of The Dip for $9.36, but for the want of portability I set out to find a digital copy. What I Found where prices ranging from $10.36 to $12.95 with both the high and low belonging to a Barnes and Noble store.
To this day I cannot understand why I should be charged more for a digital copy of a book; especially if it comes with some form of DRM. While I can't carry my hardcopy with me all the time, I can share it with anyone I want.
I won't begrudge an author just rewards for his or her hard work, or even the publisher what they have coming for formatting and publishing a book, but given the fact that they say it costs the same to create an eBook as it does a hardcopy; why the hell do I have to pay a premium for a digital copy?
I welcome your thoughts and explanations.
Have you ever found yourself in the shower or on a walk full of great ideas to share with the world? I'm sure you have. Everyone, even non-writers, come up with their best thoughts while doing other things. Most of the time translating those thoughts into a cohesive idea comes easily enough but lately I've found that when I sit down in front of Blogsmith or WordPress to get a blog post written I get caught up in the details instead of writing.
It's easy enough to do, just look at everything going on behind the scenes!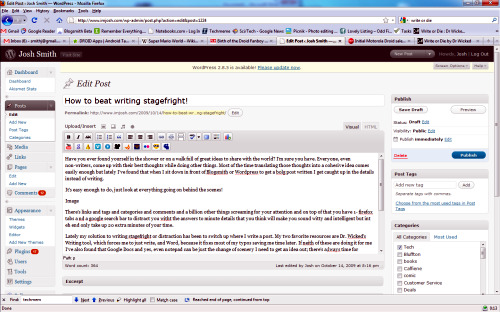 There's links and tags and categories and comments and a billion other things screaming for your attention and on top of that you have 1- Firefox tabs and a Google search bar to distract you with the answers to minute details that you think will make you sound witty and intelligent but in the end only take up 20 extra minutes of your time.
Lately my solution to writing stagefright or distraction has been to switch up where I write a post. My two favorite resources are Dr. Wicked's Write or Die, which forces me to just write, and Word, because it fixes most of my typos saving me time later. If neither of these are doing it for me I've also found that Google Docs and yes, even notepad can be just the change of scenery I need to get an idea out. There's always time for cleaning up spelling, grammar and formatting later. Now you can even buy an Adobe Air version of Write or Die with more options for just $10.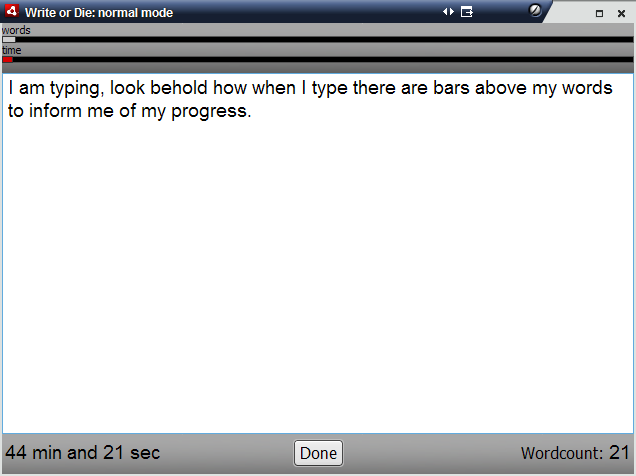 I know that there are special programs that black out your screen to focus you on your task, and admittedly I haven't tried them, but I really enjoy the ability to write on any computer I find myself in front. Being able to write anywhere, without a need for a specific tool, location and setting, is just an added bonus of my change it up writing program to fight the distractions and stagefright that comes from associating writing with a specific screen.
Have you faced a problem like this before? How do you tackle these problems and stay on top of your writing?
There are two things I'm rarely satisfied with for very long; laptop bags and keychains. Given the number of gadgets I keep on my person, which has grown greatly now that I am blogging for Notebooks.com, I am constantly looking for a place to put my keys or a way to cut down on the bulk it adds to my pockets.
I saw a cool new key in Wired that isn't just amazing and practical but it's also affordable. Meet the Split Ring Key or the Keybrid.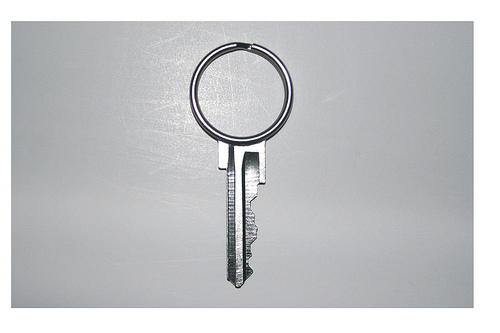 This cool keyring is also a key which saves you space and is just plain cool. When you purchase the Keybrid, 2 for $7, you get key blanks that can be cut at almost any key cutter. This is the best technology to come to keys since the first time someone added lock/unlock buttons to the actual key.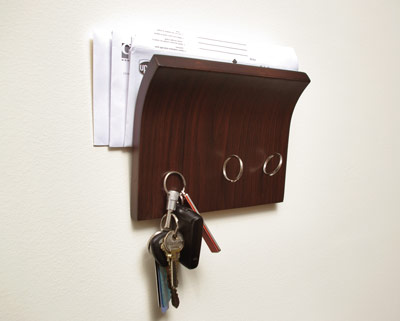 If your keychain is this slick looking you better have somewhere cool to hang it so why not get the Magnetic Keychain Holder from ThinkGeek? No more trying to find a hook in the dark or not lifting up enough and tearing a chunk of plaster off your wall! With the $13 Magnetic Key hanger you'll never be troubled with the need for accuracy again. It can even hold keys that come fully loaded with a remote control and various other odds and ends.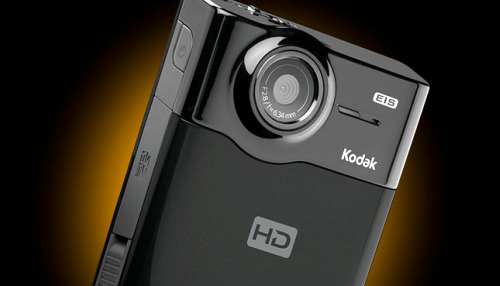 For the past few weeks I've been looking for a great flash based camcorder, buying the Kodak Zi6 and returning it in favor of the Kodak Zi8 but I was content to keep waiting until I saw this deal on the newest Kodak Pocket Camcorder.
Right now if you add the Black Kodak Zi8 to your cart on Kodak.com It comes up with a $26 discount dropping the price to $152.96 with $8 in shipping charges. This discount is going on behind the scenes at Kodak as part of a promotion valid until October 12th and you can stack coupon codes on top of it!
So I found a coupon code at RetailMeNot.com that gave me 15% off bringing my total discount to just shy of $50!
That coupon code is: KODAKGOLF09 if that one fails go look for another code at RetailMeNot.
When all was said and done I got the brand new Kodak Zi8 with Macro mode, external Mic jack and great video quality for $144 but that's because I went with Second day delivery, if you can stand to wait for Standard Ground you'll pay just $138.52 for a brand new Kodak Zi8.
Want to know more about the Kodak Zi8? Check out the review video Chris Pirillo shot and read the reviews at the Boston Globe and at Gizmodo. This looks like a hot camera and I can't wait to have it.

Always ready for the next great software application to revolutionize and streamline my life I signed up for Evernote a little more than a year ago as soon as the beta invite landed in my inbox. I wasted no time installing it on my HP tablet alongside OneNote and rushing to lunch with a friend just so I could scan his business card. It was…the coolest software I had seen in quite a while…but it didn't last. In fact the last thing I put in my notebook until 2 weeks ago was that business card.
Evernote fell to the side primarily because I couldn't find a good way to work it into my workflow but now that I've been writing for WalletPop.com and trying to line up some other writing projects I really felt the need to get back on the elephant (get it? their logo is an elephant! Elephants never forget…Ok Ok.).
Here's how I had been doing things for the past year. I kept a variety of notes and digital stickies if you will in the following locations; sometimes related sometime not.
Gmail
Starred items in Google Reader
notepad files saved to Dropbox
notes in Moleskin
notes tucked into a Moleskin
drafts in Blogsmith
del.ico.us links
snapshots on my smartphone
several other random places where I'm sure my million dollar idea rests unaccounted for
The fact that I use 3 computers, and a smartphone on a daily basis coupled with trying to write a solid post for WalletPop.com and stay on top of a new directive at my day job aptly named "Big ideas" made this system difficult to use and worse inefficient even if I managed it well. If there's one thing I learned from Tim Ferriss, doing something well doesn't make it important, so I set out to find a better way. Read more