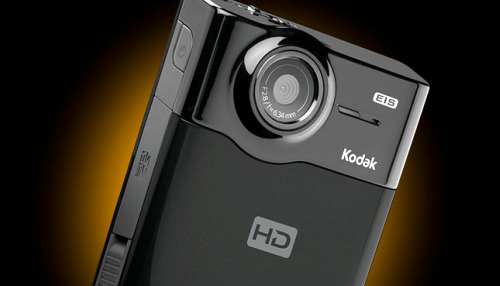 For the past few weeks I've been looking for a great flash based camcorder, buying the Kodak Zi6 and returning it in favor of the Kodak Zi8 but I was content to keep waiting until I saw this deal on the newest Kodak Pocket Camcorder.
Right now if you add the Black Kodak Zi8 to your cart on Kodak.com It comes up with a $26 discount dropping the price to $152.96 with $8 in shipping charges. This discount is going on behind the scenes at Kodak as part of a promotion valid until October 12th and you can stack coupon codes on top of it!
So I found a coupon code at RetailMeNot.com that gave me 15% off bringing my total discount to just shy of $50!
That coupon code is: KODAKGOLF09 if that one fails go look for another code at RetailMeNot.
When all was said and done I got the brand new Kodak Zi8 with Macro mode, external Mic jack and great video quality for $144 but that's because I went with Second day delivery, if you can stand to wait for Standard Ground you'll pay just $138.52 for a brand new Kodak Zi8.
Want to know more about the Kodak Zi8? Check out the review video Chris Pirillo shot and read the reviews at the Boston Globe and at Gizmodo. This looks like a hot camera and I can't wait to have it.
I found this cool flip clock while flipping through the feed from Apartment Therapy, a slick blog dedicated to living in small spaces in regards to design and technology.  The main site also has a section called Unplggd which focuses even more on technology!  I really love the flip clock design and this is the first time I have seen one for this cheap new, especially this aesthetically pleasing.  What I would really love for my office wall or desk would be a flip clock that tells time as a fuzzy clock.
A Fuzzy clock is one which tells time similar to how you would tell a friend.  Toby, the time is 20 til 10 or it is quarter after 2.
The Flip Clock is from UMA a cool design firm for $34.
Box.net provider of online storage is now offering free fax service through your Box.net account.  The fax service is provided through eFax.com, a provider of email fax services.  Unlike many offers of free faxing you may come across online this is a truly free service.  This partnership is made possible by the Open Box Services feature provided by Box.net and is one of many services available on Box.net to maximize usefulness of your files.
Faxing through Box.net is fairly straightforward, you only need an account which includes 1 GB of free storage  and a scanner or in some cases just a document.  The eFax service does not provide a way to receive faxes but if you are like me, the extent of your faxing needs are tied to faxing information to companies who haven't quite accepted the use of email and attachments in that you send more than you receive.
After you have the file on your PC through scanning, creating a pdf or saving a Microsoft Office file in the 97-03 format you simply need to upload the file to your box online.  Once the file is online clicking the drop down arrow on the file will give you an option to send with eFax. Bam you've just sent a fax for free!  If you are often sending faxes to various companies this service could be a great way to save money on your monthly budget and add some convenience to the process. I plan on using the service frequently as I deal with Student Loan companies and car dealerships which seem to be wary of this newfangled email fad.  I am estimating that this service should save me between $20 and $50 over the course of the next year for faxes.
Just over a year ago I wrote about our experience with DSS Inc. a subsidiary of All Star Promotions and the shady magazine sales they run.
Boy am I a sucker sometimes. Anyway I looked into the company DSS Inc, which is owned/operated by All-star Promotions based out of Texas. Well All-Star has had 49 BBB complaints in the last 36 months so I have issued a stop order to my check and I am sending the cancellation in tomorrow via Fax. Apparently if you do not cancel your order within 3 days before midnight in writing All Star et al will pursue you with a debt collection agency.
The article has been getting numerous comments lately and it is good to remind people that these door to door sales for magazines are often under shady circumstances. These prices are often way over even retail price. If you want to save money look for the digital version or a blog covering a similar topic. If you enjoy magazines as much as I do then try to subscribe through a more beneficial source.
Good sources for magazine deals:
Blogs with similar topics - look for giveaways used as a source of promotion for the blog
The Magazine's website - often they have online specials
School fundraisers - Real ones, from people you know. (Ask your Boss or Co-Worker, one is bound to have a kid selling subscriptions)
If you are new to the world of free magazine subscriptions you are likely asking how or why they give away the magazine which others pay so much for. The reasoning is quite simple, money. Magazines make their big bucks through advertisers and the advertisers pay more for ads which are seen by more individuals. Hence giving away subscriptions translates into more money for the publisher.
Remember, don't by subscription from door to door sales unless you have money to throw away.
First off I am a Buzz Agent, this means occasionally companies will share samples of new products with me in order to generate buzz or word of mouth advertising about their product. The latest item I received was from Wrigley and it included samples of their new gum, "5 Gum", which rocks.
I haven't had a chance to share and try all of the 3 flavors yet but I have tried Rain and Flare and they rock! Tonite we had dinner with my parents and my mom already had the flare flavor as she is a big fan of cinnamon flavored gum. I took a piece to give it a try expecting to be overcome with the cinnamon flavor like other cinnamon gums I have tried. I ussually spit those out in a few minutes as they are just to spicy. The Flare flavor of 5gum reminded me of a car with a radar detector flying down the highway and just in time, "beep squawk beep", the gum drops down to the speed limit. Don't take this wrong the gum has a great kick and it lasts a long time, but it stops right where it should. I don't normally get excited about gum but so far the 5 gum line has got me pumped.
I received a few Buy One Get One Free coupons with my sampler. I am handing out a few to friends and co workers but if anyone wants one leave a comment and I'll pick a random one and send you out the coupon.
*I am not paid to post this, I did receive a free product but I am only posting this because I am blown away by it.
Sprint has some great deals available from their employee and friend program which is available to pretty much anyone. The program is known as SERO and you can sign up online at the SERO site. If you enter the email address [email protected] as the referral address you will gain access to the deals on monthly plans and on handsets including the new Mogul for $289.99! The deal is only valid to new Sprint customers and you can port over your number so long as it isn't currently with sprint. The plans are insanely cheap.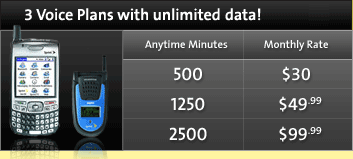 You can't have a family plan in the SERO pricing but depending on your current carrier and needs it may be cheaper with 2 SERO accounts. The accounts also come with 7PM nights and Weekends.
With this great deal, I have been checking into the local coverage in Northwest Ohio. One problem with Sprint right now is that this areas is still loosely defined as a Nextel region and isn't available for this deal. If you live in an area without coverage, search for a large city nearby. This zipcode is your area of frequent usage, not your home zip code, for my purposes I chose 43601 the zip for Toledo, OH. I talked to a knowledgable Sprint rep att hte local store who is anticipating EVDO coverage in the Findlay, OH region for Sprint by the end of the calender year. It is surprising how behind the game Sprint is in a nationwide rollout of highspeed data coverage, especially considering Alltel is ahead of them with coverage similar to Verizon's. If Sprint can get the rollout going soon these SERO deals could gain them a lot of subscribers in more rural areas, and more subscribers on their full price plans.
Stay Tuned for a comparison of EVDO coverage in the near future.
Earlier today I found out about Soundpedia via the PopCandy Blog, and wow this is a slick site!
Soundpedia has a huge selection of full CDs which you can stream. There is also the ability to create playlists and more. Soundpedia excels in having a large selection of new material as well as an extensive back catalog of music from big name bands. One warning is that it can be quite addictive to relisten to those one hit wonders from the 80′s and early 90′s. The song quality isn't spectactular but for a free office listening solution it rocks.
I take no responsibility for you blaring Ice Ice Baby or U Can't Touch This at work and having your boss walk in on a co worker trying to imitate MC Hammer.
Well, since my knee surgery and the associated expenses are more than we have in savings we will need to put them on a credit card while taking several steps to pay them down quickly.
My first step was to call Citi to get a lower rate. It took 3 calls before I reached Darnell who was able to transfer me to Amber an "Account Specialist".
I had explained to Darnell that I had been a Citi customer in good standing and had a credit score in the high 700′s and that I would liek a lower APR even for a short period of time. On the previous calls I had been told that 13.74% was the lowest they could go on my account. Miraculously the account specialist was able to offer me 7.99% for 9 months.
Granted carrying any debt on a credit card is less than awesome, but sometimes expenses happen, in this case an unexpected knee surgery and a high deductible.  The plan is to be out of CC debt by the end of this promo period!